Add description, images, menus and links to your mega menu
A column with no settings can be used as a spacer
Link to your collections, sales and even external links
Add description, images, menus and links to your mega menu

A column with no settings can be used as a spacer

Link to your collections, sales and even external links
Free International shipping for those who reserve the EMOVE Roadster.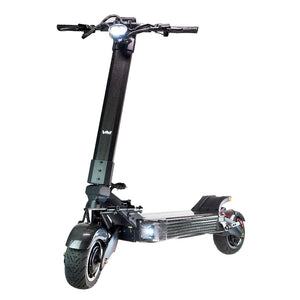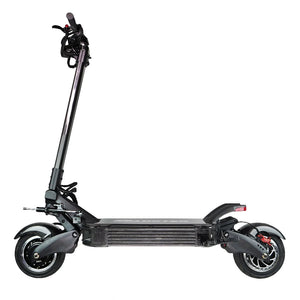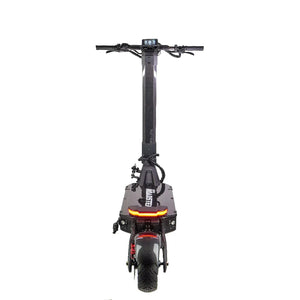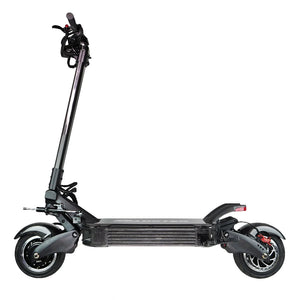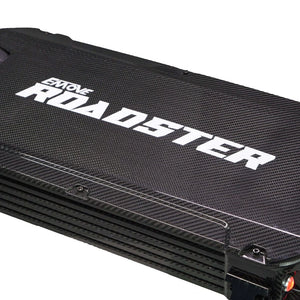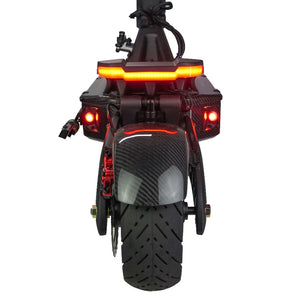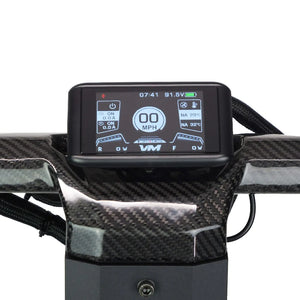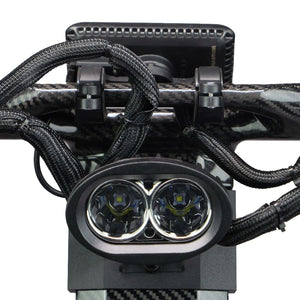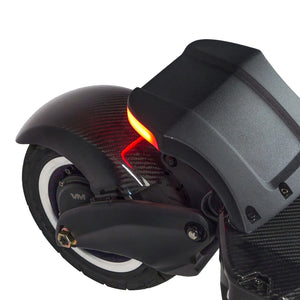 EMOVE Roadster
Estimated Delivery
Order today, returnable until: Feb 14, 24
X
Returnable items purchased on Jan 15, 24 can be returned until Feb 14, 24.
▷ Stock Availability
▷ Watch How To Check Out Video
▷ Schedule a Virtual Tour
▷ Our Return & Warranty Policy
Specs Overview
Top Speed
129 kph
Range
119 kilometer
Weight
63 kg
Max Load
227 kg
Water Rating
IPX5
Hill Climb
50 Deg
Exclusively designed by VoroMotors, the EMOVE Roadster is the world's first carbon fiber luxury sport scooter – and it carves like a knife. Outfitted with a solid stem and steering damper for ultra-stability and durability, the Roadster is the best looking badass that you haven't ridden yet. With a max unlocked output of 15,456W and twin 80A sine wave controllers, the Roadster hits 129 kph with effortless acceleration. The ventilated deck is a heat sink, cooling the battery and controllers more quickly the faster you're driving. And you can keep driving with over 119 kilometers of range with the Roadster's massive 84V battery. Its ultrawide 27.9cm street tires and dual hydraulic suspension provide the perfect response to uneven terrain, gripping the pavement when you bank around corners and steal the lead on straightaways. Constructed with custom-designed layered carbon fiber and forged steel components, the Roadster electric scooter is a level-up from anything else you'll see on the street. And unlike other carbon fiber scooters that you might have heard of, the Roadster will actually make an appearance. Remember: It's not foldable. It's not portable. It's not about that. The EMOVE Roadster Electric Scooter is a luxury vehicle with limited units available. Pre-order yours now. 
Features a detachable stem, VoroMotors TFT display, thumb throttle, nylon-wrapped cables, and backlit rubber button consoles 

Equipped with Magura MT5 hydraulic brakes, dual adjustable hydraulic suspension, and 27.9cm tubeless pneumatic tires

Has a 53.3cm long by 33cm wide carbon fiber deck without traction material, so even expert riders should be cautious

Has a bright high-mounted headlight, button deck lights on the front and rear, and a taillight with integrated turn signals for low-light visibility 

Capable of carrying riders up to 227 kgs and weighing 63

 kgs, the Roadster belongs on display not in a trunk
This custom-designed carbon fiber scooter from VoroMotors will be produced in small batches to enhance performance and components with each batch.
$10,000 caliber scooter sold at half the price.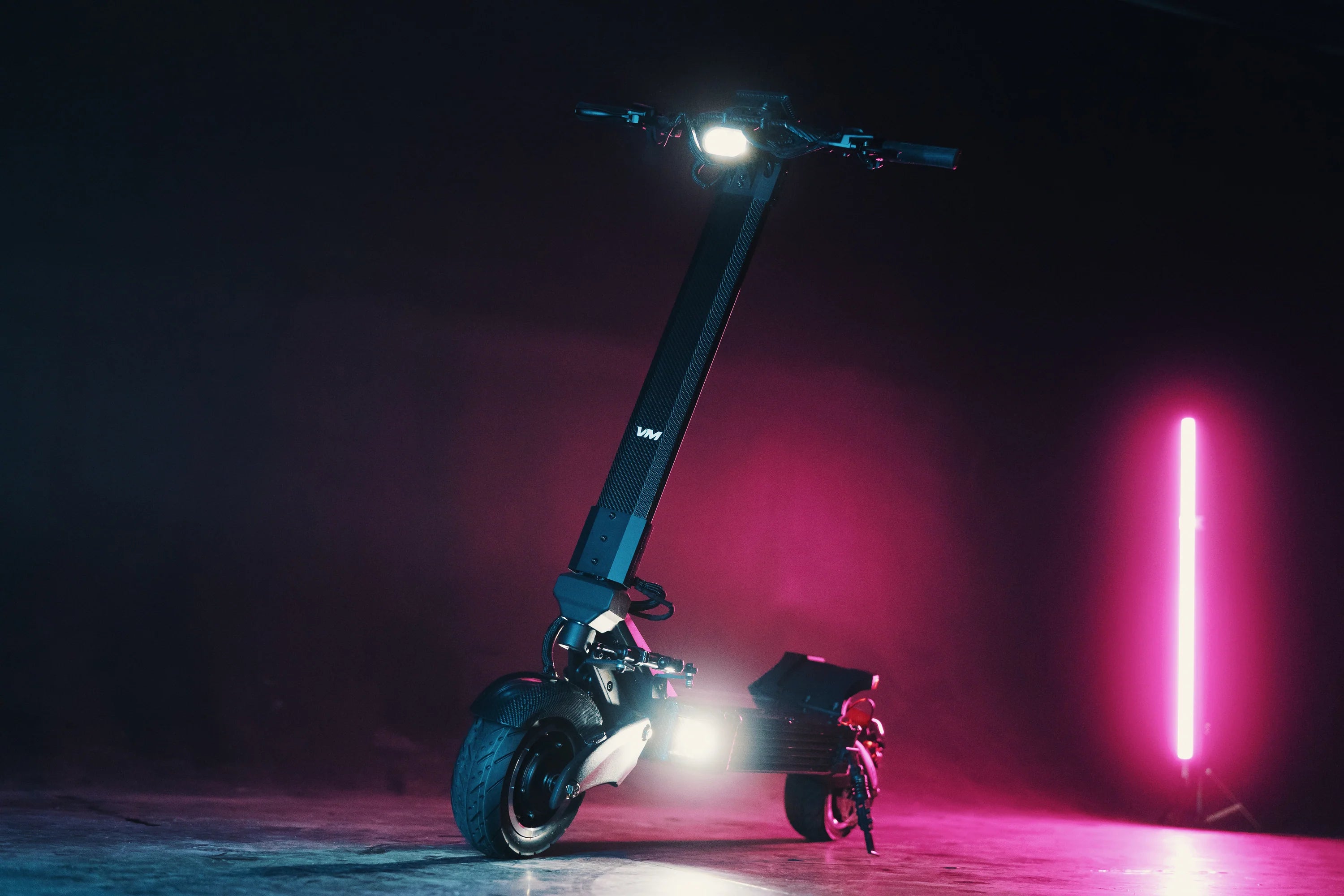 Faster Take-off Than the Boeing 747
Currently holding the record for the world's fastest electric scooter, this powerhouse boasts an astonishing 15,456W motor power coupled with dual 80A sinewave controllers. One standout feature is its rapid acceleration, going from a standstill to 129 kmph in just 10 seconds, surpassing the Boeing 747's 14-second benchmark. The Roadster is not just about speed; it's engineered for endurance. With a massive 84V 40Ah copper-nickel-infused Samsung battery, comprised of 21,700 cells and backed by a robust 180A BMS, riders can confidently venture up to 119km on a single charge, cruising at a comfortable speed of 40.2 kmph. This combination ensures that even the most distant destinations are within reach.
0 to 100 kmph in 10s, surpasses Boeing 747's 14s benchmark.
Dual motors with a maximum unlocked output of 15,456W.
Effortless acceleration to a top speed of 128.7 kmph.
80 amps per controller
7000W per motor
Carbon Fiber Masterpiece
A fusion of aerospace-grade T300 carbon fiber and high-grade aluminum, the Roadster embodies strength, rigidity, and style. Unlike traditional e-scooters, its non-folding design ensures top-notch stability at high speeds. Built not just for display but for dynamic performance, the Roadster invites you to experience luxury on wheels.
Crafted with a nine-layer woven T300 carbon fiber construction.
The final layer is meticulously sealed with a high-gloss epoxy finish for an exquisite look.
Designed to last for a long time, the Roadster offers stability and comes with a detachable stem making it easy to transport and store.
Utilizes the same cutting-edge materials found in exotic cars and aircraft for uncompromising quality.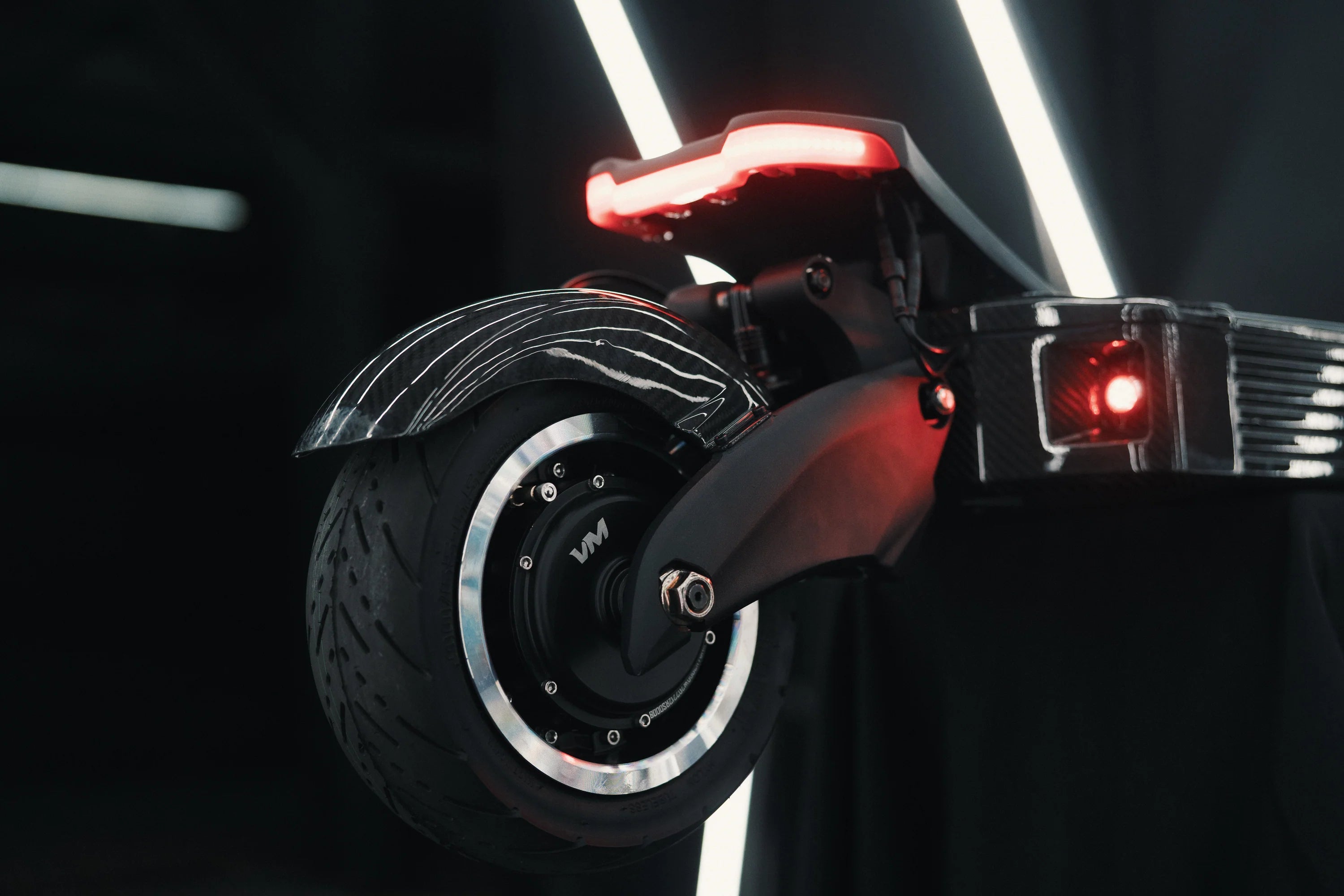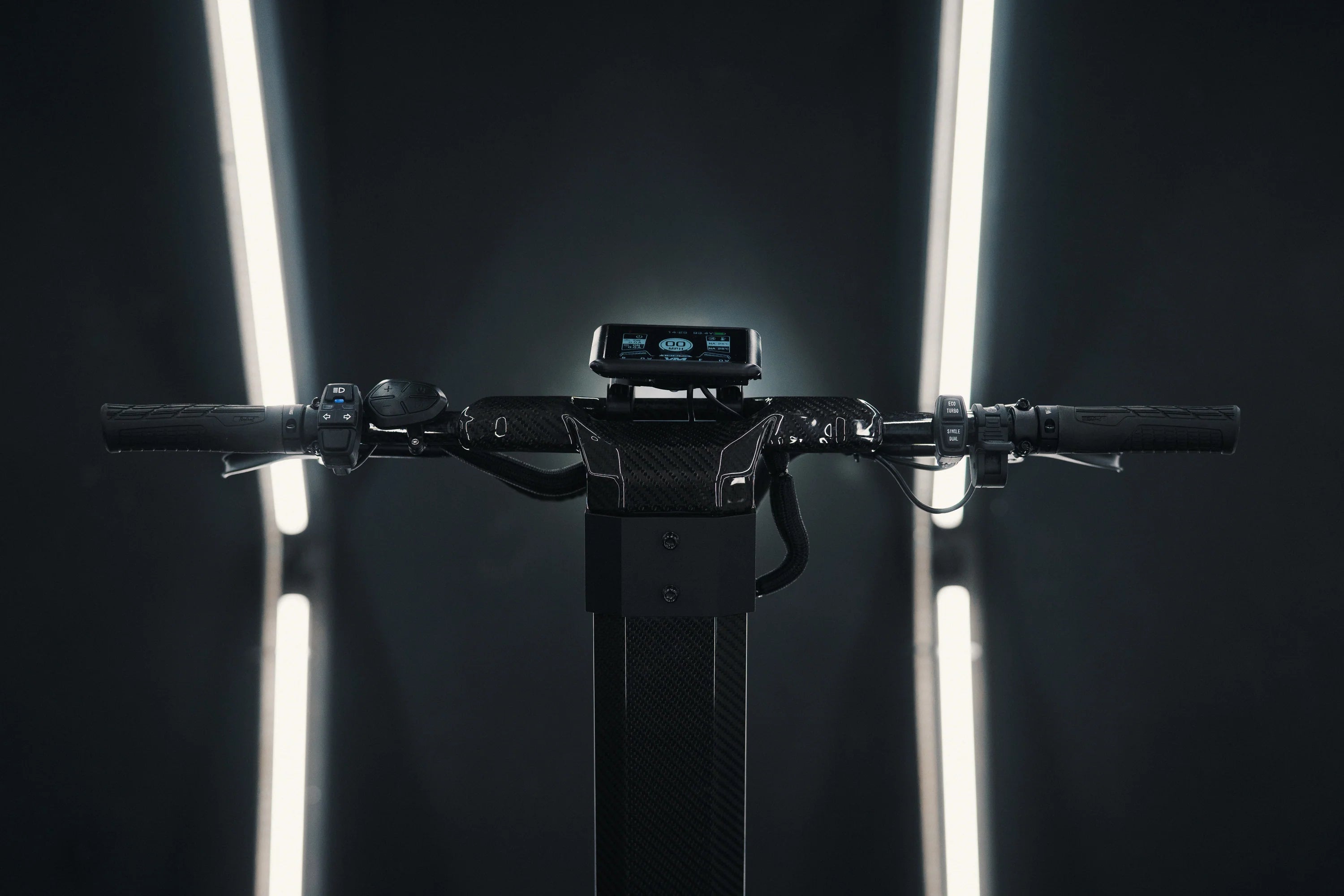 Street Dominator: Carves Like a Knife
The Roadster is a sleek street assassin with blade-like arms and a stealthy profile. Customize your ride with adjustable DNM hydraulic shocks and ride safely at night with integrated LEDs, including a high-mounted headlight. For swift and smooth journeys, is equipped with a heat sink and heat sink plate. This innovation transforms the deck into an efficient cooling system, extending the scooter's core electrical component lifespan. Dominating the streets requires exceptional performance, and the Roadster delivers it.
Adjustable DNM hydraulic shocks for personalized comfort and performance.
Reinforced neck for unbreakable build-quality.
Carbon fiber fenders for dirt protection and brake cable security.
Heat sink cooling technology for extended electrical component lifespan.
The First of its Kind
Experience the EMOVE Roadster's remarkable power and unmatched smoothness. Being the first to feature premium Magura MT5 brakes and incorporate a split rim design, the Roadster is truly a masterpiece. With its cutting-edge Magura MT5 brakes, it can swiftly come to a stop. The Roadster is a masterclass in power, innovation, and precision.
Leading the electric scooter market with premium Magura MT5 brakes straight out of the box.
Instant and smooth braking with Magura MT5.
Exclusive split rims provide flexibility for tire upgrades.
3.5" TFT screen displays essential statistics.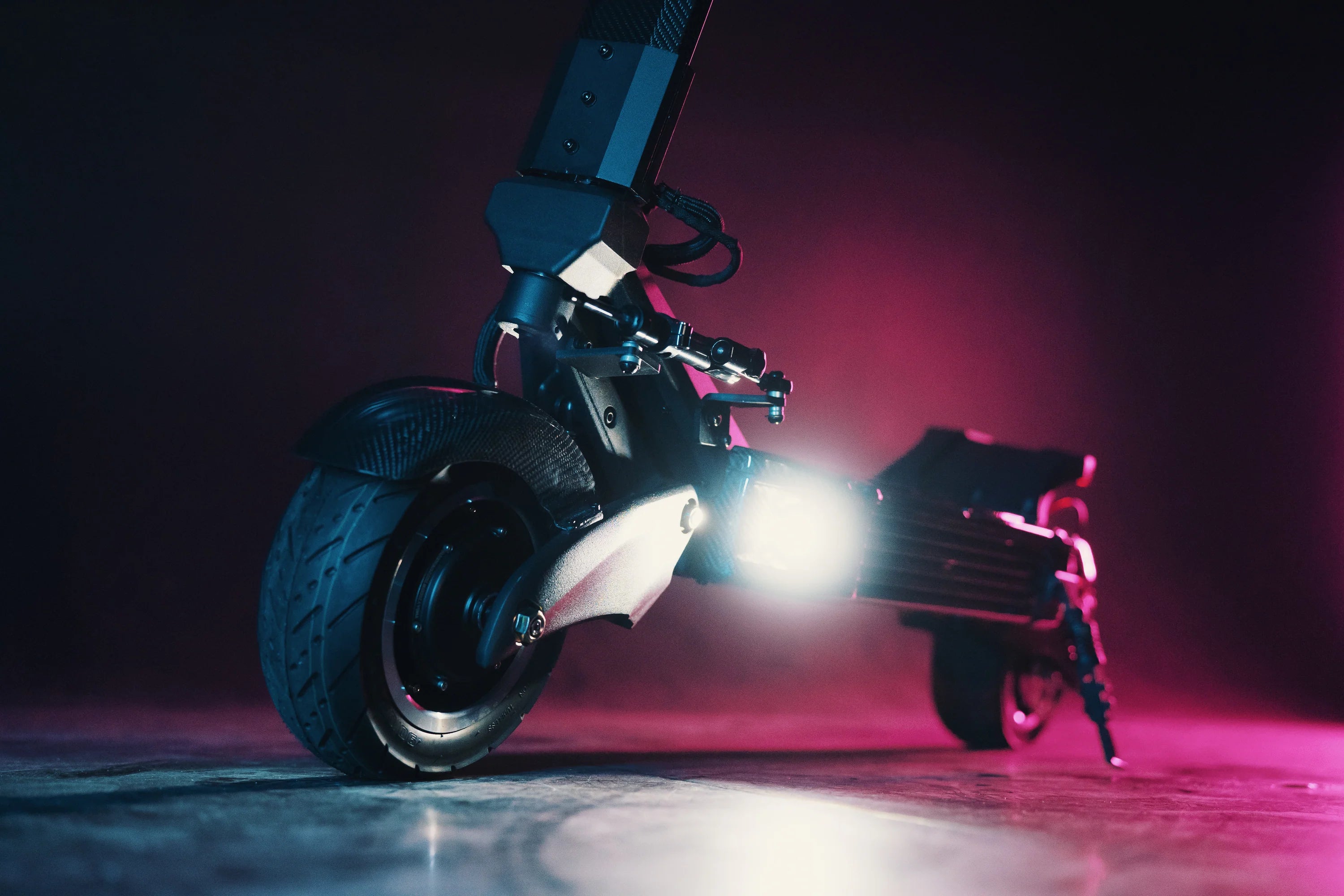 Warning: Race Mode Activated
The Roadster delivers a pure adrenaline rush, designed for the fearless. It consistently runs on dual motors, offers five speed modes, an ultra-wide stem, and features a built-in steering damper for precise control in every twist and turn. Unlike traditional hinged designs, its bolted stem guarantees stability with no risk of accidental folding. With a spacious 21" by 13" carbon fiber deck and kickplate, riders have ample room for their stance. The Roadster isn't just a hyperscooter; it's an unleashed race beast on two wheels.
Unlockable dual motors propelling it to an impressive 80 mph top speed.
Five speed modes with a built-in damper for precision control.
Sturdy bolted stem design ensures wobble-free stability.
Expansive carbon fiber deck provides ample footing space for skilled handling.
Secure Your Spot Among the Elite
After years of dedication, the EMOVE Roadster has been meticulously crafted with unwavering passion and precision. VoroMotors was inspired to create not just an electric scooter, but a masterpiece that stands out in a crowd, resonating with both seasoned riders and newcomers alike. For a limited time, we're making this elite ride available to everyone, not just our existing customers. It's our way of expressing gratitude to the entire PEV community for their continuous support and enthusiasm. But remember, with exclusivity comes scarcity. The question isn't if you want it, but if you're quick enough to own it. Secure your EMOVE Roadster today!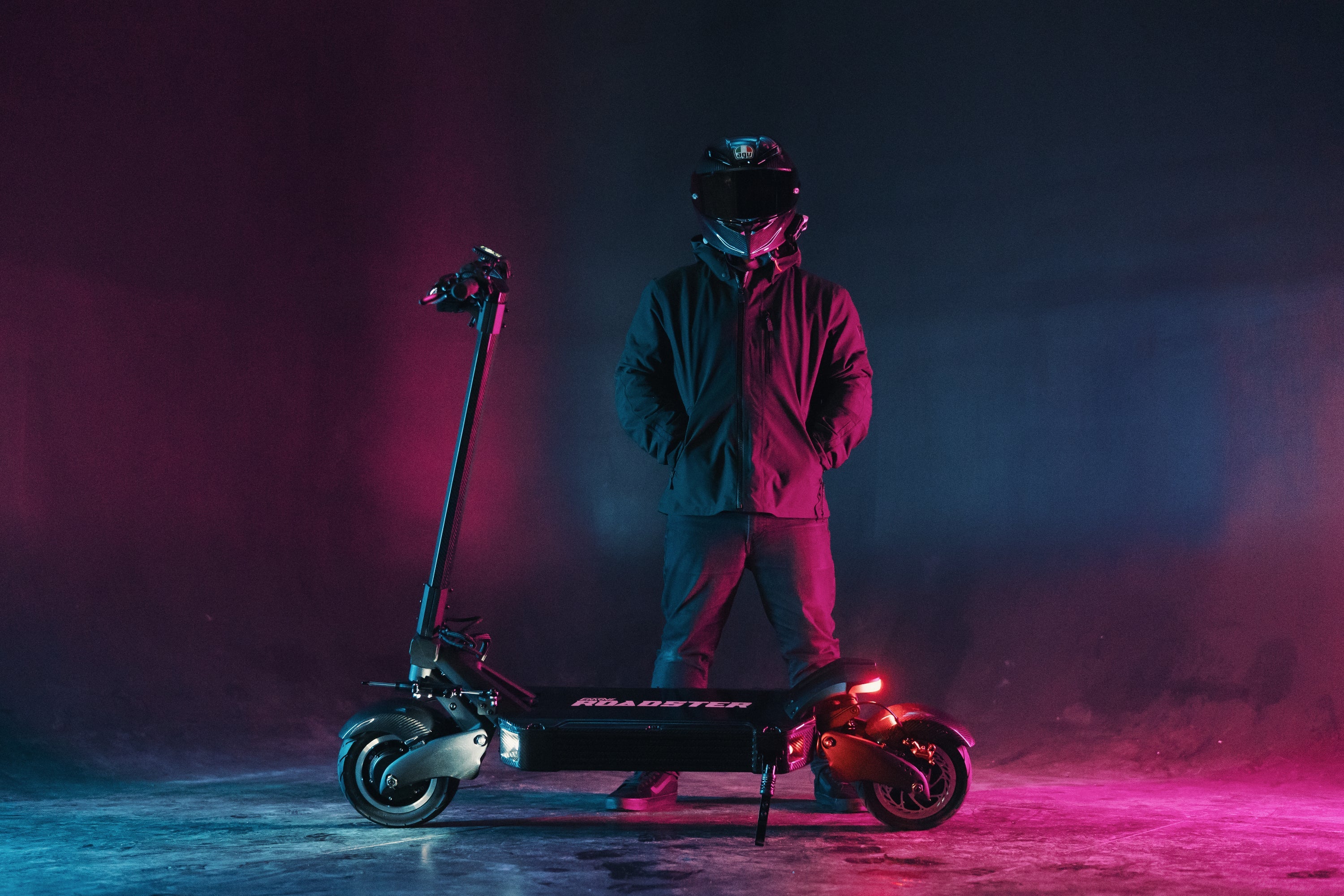 Ultra Bright, High-Mounted LED Headlight
Tailored Ride with Adjustable Suspension
Precision Steering Control with Built-in Damper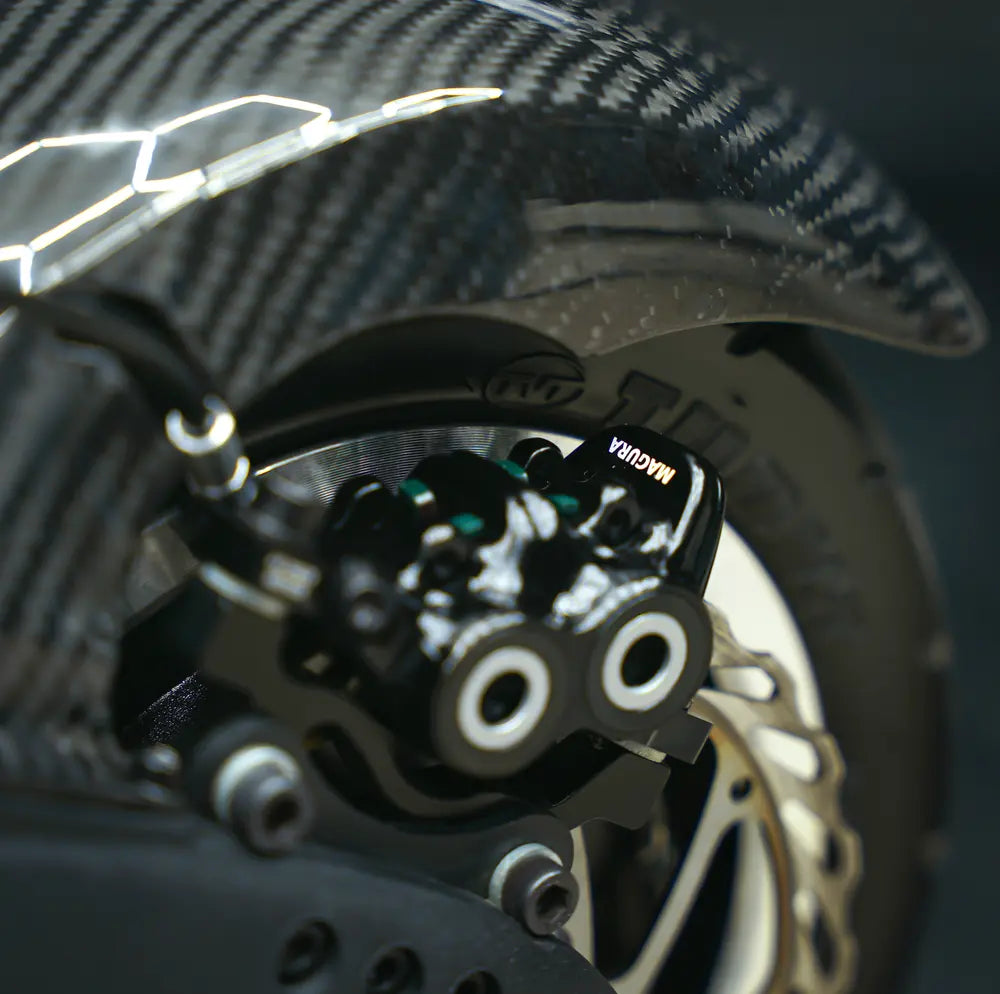 Race-Worthy Magura MT5 Hydraulic Brakes
---
Technical Specifications
Performance specifications, specifically top speed and range, are VORO estimated values based on multiple linear regression and often differ from manufacturer's projected performance. Range, top speed and hill climbing ability will vary depending upon rider size, riding style, and riding environment (terrain, weather conditions, incline, etc).
Top Speed

129 kph

Tire Type

11" x 3.5" pneumatic 90/60-6.5 tubeless tire with self-healing gel

Brake Lights

Yes

Range

119 kilometer

Charge Time

5.7 hours (With Included Fast Charger)

Brakes

Magura MT5

Signal Lights

Yes

Hill Climb Angle

50 Deg

Battery

84V 40Ah Samsung battery 50S 21700 cells 180A BMS Copper nickel infused

Water Rating

IPX5

Max Load*

227 kg

Motor

1000W Out of the Box
15,456W Unlocked

Controller

84V 80A sine wave controllers (2)

Headlights

Yes

Item Weight

63 kg

Throttle

Thumb Throttle

Display

8.9cm VoroMotors TFT

Deck Lights

Yes

Dimensions

142.7cm x 69.6cm x 126cm

Suspension